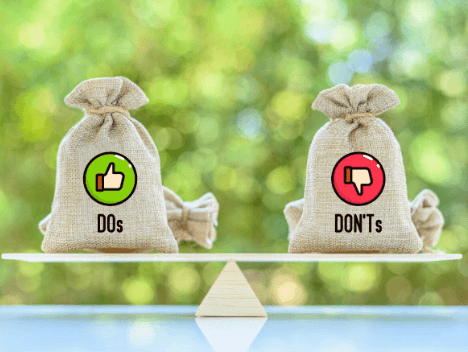 Business
The Do's and Don'ts for Getting Personal Loan
When facing an urgent need for money, or when you know you will need money, the first thing you might consider is to get a personal loan. But what are the requirements to get one, what are the do's and don'ts, and how much personal loan would you be eligible for?
I faced the same concerns about a year ago when I had to send my daughter to IIM. She had worked hard to get admission at an IIM, but the fees were nothing to be scoffed at. Rs 35 Lakhs for the program was more than I could provide.
But my daughter has been studying for 18 hours daily for over a year to get a seat at this institute. So I was just not going to pour water over her dreams. I decided to get a personal loan but was unsure how to do it.
What are personal loans?
Personal loans are typically unsecured loans, meaning you borrow money from banks or NBFCs without having to put up collateral as security. This, though, depends on the lender and can impact the interest rates, as secured loans typically have a lower interest rate than unsecured loans.
Personal loans require you to pay the amount according to the assigned EMI based on the repayment term and the interest charged on the sum.
How to get personal loan?
It has become effortless to get a loan as long as you have a good credit score and history and fulfill some other eligibility criteria set up by different lenders.
Although it is simple to get a loan approved, it takes a lot of time and effort to choose the best loan provider for your needs, as they may provide you with different loan amounts and interest rates or require different minimum incomes and tenure.
What are the do's and don'ts?
Do's
● Do compare plans
It is vital always to compare different plans offered by various banks and NBFCs to choose the best option for you.
● Do check and build your credit score
It is essential to build your credit score and be aware of your credit score so that you know the range of your interest.
● Do look for all fees and charges
Make sure to read the fine print and be aware of all charges, such as processing fees, foreclosure fees, bounced check fees, administrative fees, etc.
Don'ts
● Don't miss financial planning
Always ensure you know how much your debt would be and whether you can sustain having to pay that much.
● Don't forget about tenure
Tenure is also a significant factor when it comes to getting a loan. A higher loan term means you must pay much higher interest.
● Don't skip repayment
Always pay your dues so you don't build up debt and get into financial trouble.
How much personal loan can I get?
It has become easy to determine how much loan you are eligible for by checking online loan calculators. All you need to do is input your city, Date of birth, the company you work at, your monthly salary, and total monthly expenses. This will help you find the total loan amount you are eligible for.
You can change the values to see and simulate different scenarios for even more information. You can also approach other lenders, who may offer a higher loan amount based on your needs.
Conclusion
It is thus essential to keep these things in mind if you are considering getting a loan. It is crucial to understand that getting a loan is a significant financial decision and to be aware of whether you can pay it off using available tools like a personal loan calculator and EMI calculator and should only apply for one after that.
For me, though, I am thankful for Bajaj Finserv's aid in helping me in being able to finance my daughter's dreams and not having to say no to something she has worked so hard towards. It helped me take this leap without worrying about not having enough money to pay for her hostel and other expenses, as it is not just the cost of the tuition but several additional hidden costs as well.